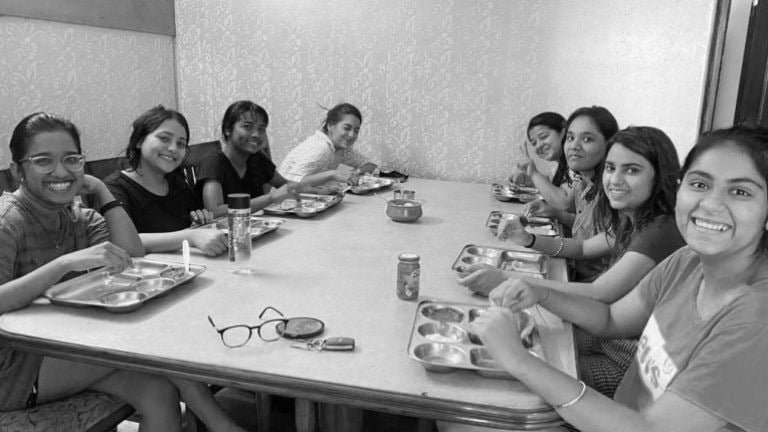 To facilitate the budding designer (students) further IIFD offers outstation students Accommodation/hostel facilities. A home away from home. It ensures students thrive in a healthy, safe, and secure environment. Indian Institute Of Fashion & Design provides comfortable accommodation for its students through various security parameters and ensures a safe environment. It's a second home that ensures that students live out their college lives in a healthy, safe, and conducive environment.
Why iifd hostels are the best?
Our well-furnished hostels at IIFD offer a comfortable and homely environment. With modern amenities, spacious rooms, and Wi-Fi connectivity, we prioritize cleanliness and provide a conducive space for students to study and relax.
We believe hostel life should be enjoyable and enriching. At IIFD, we foster a vibrant community through co-curricular activities, support from dedicated staff, celebrations, and mentorship programs, creating lasting memories and personal growth opportunities.
campus hostel AVAILABILITY
IIFD offers the convenience of campus hostels. Located near the campus, students have easy access to resources, libraries, labs, and enjoy 24/7 access. In-campus hostels provide a secure environment, ensuring the safety and convenience of our students.
One bed per student shall be offered
Fully furnished AC rooms with beds and mattress
Individually lockable almirahs for storage
Geysers in washrooms
Study tables
Dressing Mirror
Tube lights & LED
Dust Bin in each room
Washrooms with Sanitary fittings
Water: RO facility to be provided
Medical facility available with first aid/ provided to sick Residents
Doctor on call number(s) to be shared with the students.
Dining area
Residents to pay for their room's electricity charges
Electricity Charges will be divided equally
No heavy Electrical appliances will be allowed in the premises.
Breakfast, Lunch and Dinner to be served daily
A separate Induction will be provided to the residents
Rooms
Washrooms
Common areas would be cleaned on a daily basis
Regular pest controlled services
CCTV Cameras
Main entrance secured with locks
Security Guard – One male security guard at the main entrance and one female facility manager in the facility.
The best way to understand what makes IIFD so special is to see it for yourself. Chat with an admissions advisor, talk to current students, sit in on a class and visit our campus. We can't wait to meet you!