Experience the Best, Experience IIFD. The high-spirited environment at the campus makes you engaged and positive always ready for anything. Enjoy the ultimate vibes at the best design college in the country!
IIFD is a place where discovery does not stop when the class ends. Good memories, True friends, Unforgettable Experiences make sure that you grow, learn and have fun here.

Discover a whole new world where you can explore your inner self and try out new things and maybe uncover new talents you never knew you had. Meet Like-minded budding designers from all across all over the world and exchange and learn the rich culture and share your passion for fashion. There are no limits to your curiosity, follow them well. The larger than life experience will always keep you on the edge to make improvements and hence make the world a better place to live in.
Get your talent exposed globally & achieve heights of success at the Indian Institute of Fashion & Design.
Welcome to our living-learning community. Welcome to IIFD.
College has never been so fun
Students at IIFD carry out different activities apart from their academics. The college offers the students numerous opportunities to showcase their skills and talents in the non-academic fields too. The possibilities are endless but time is a constraint. So Join now the strong community of budding designers, Industry experts and scholars!
Yuvika Chaudhary Turned Showstopper for IIFD
Sonam Bajwa at Blender's Pride Fashion Week
Ishita Dutta at CRW Seaon 5 with IIFDians
Blurring the lines between classroom & career
IIFD Provides first-hand industry experience. Regular Industrial visits at Buying Houses, Product Houses & Brand Warehouses is a proven success fact for students here. We make you learn what helps you in writing your success story.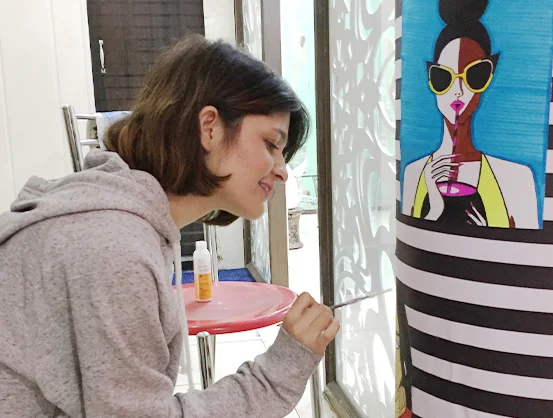 Study at IIFD is not limited to Theories Only. Your classroom at IIFD is Skill & Talent Refinement Hub where expert faculty assist you with high tech labs & instruments to expand learning beyond the horizons.
IIFD campus sits in the heart of Chandigarh, putting students just minutes away from the entertainment, cultural riches and opportunities of "The Most Perfect City In The World."
Explore high tech campus facilities and the world of smart learning with the state of art campus at IIFD.
 IIFD offers 100 % Placement Assistance with an opportunity to be a part of Fashion Shows, Events organised with MNC Organizations.
Be a part of the best fashion shows in India such as U&I International fashion week, Junior Fashion Week, India Kids Fashion Week etc.
IIFD offers a Vast range of academic facilities. Expert Counselors for Student Assistance, Large Library and Collection of study material etc.
IIFD provides hostel and food facilities for outstation students with the best health and hygiene to make you feel home away from home.
Expose yourself to the world with global alliances at IIFD with esteemed organizations like ELIA, IIID, FDCI, ADI etc.
The best way to understand what makes IIFD so special is to see it for yourself. Chat with an admissions advisor, talk to current students, sit in on a class and visit our campus. We can't wait to meet you!